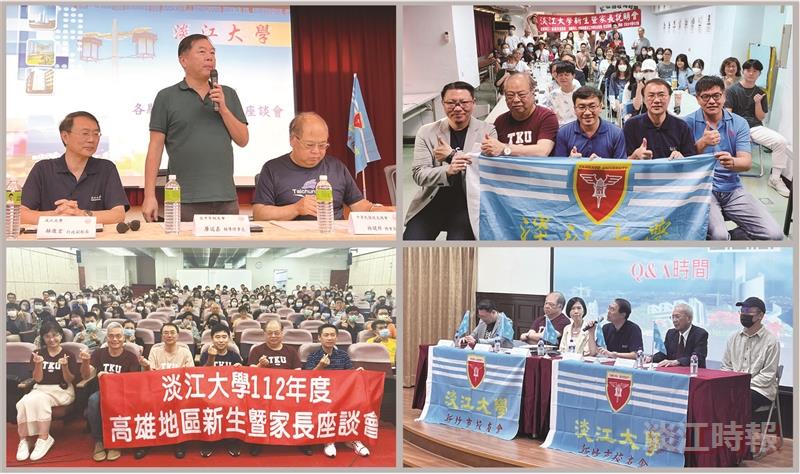 From August 19th to September 2nd, the Office of Alumni Services and Resources Development, along with local alumni associations across Taiwan, jointly organized a total of 19 orientation meetings for new students and their parents. Administrative Vice President Chun-Hung Lin, President of the Tamkang University Alumni Association Headquarters Lawrence Lin, Dean of Student Affairs Shih-Jung Wu, and the Executive Director of Alumni Services and Resources Development Chun-Young Perng, along with their colleagues, traveled to various regions across Taiwan to attend these meetings. The chairpersons of local alumni associations also participated in hosting these orientation meetings. Dr. Lawrence Lin expressed that Tamkang University is full of treasures, and he hopes that new students will come to the university to learn and explore these treasures thoroughly.
The New Student and Parent Orientation Meeting in Taichung took place on August 19th at Taichung Municipal Chungming Senior High School. Dr. Chun-Hung Lin, who has previously served as the Dean of Student Affairs and Dean of Academic Affairs, answered numerous questions from parents at the event, helping to alleviate concerns and provide reassurance to new students. Dr. Lawrence Lin shared that he graduated 40 years ago and earned his master's and doctoral degrees at the University of Massachusetts Lowell (ranked approximately 100th in the U.S.). Last year, he was also awarded an honorary doctorate. He facilitated the establishment of a sister school relationship between Tamkang University and UMass Lowell for further exchanges. He expressed his gratitude for having participated in the Student Affairs Clubs Seminar back in the day, where he gained enriching academic and extracurricular experiences. He encouraged his younger schoolmates to make the most of their time at Tamkang University.
The orientation meeting held in Hsinchu City on August 26th was attended not only by new students and parents but also by many alumni, with approximately hundreds of people in attendance. Mr. Chie-Shi Chou, the founding president of the Hsinchu City Alumni Association, who is 91 years old, delivered a speech. He mentioned that the first orientation meeting for new students and parents was organized by the Hsinchu City Alumni Association, which can provide nearby services to meet the needs of new students and parents. The current chairman, Ru-Ying Lan, a Mass Communication alumna, also stated that the Hsinchu County and City Alumni Associations have formed sister associations with the Keelung City Alumni Association and the School of Computer Science and Information Engineering Alumni Association. Together, they are creating "竹基" (footprints) and "資竹" (contentment), emphasizing the strong connection and cherished relationship they have with Tamkang University.
The Keelung City Alumni Association held a New Student and Parent Orientation Meeting on August 26th at the Tongfong Civic Activity Center in Keelung City. The event was jointly hosted by the Chairman of the Keelung City Alumni Association, Hsiao-Hsien Chiu, and Cheng-En Wu, an economics sophomore at the university. Over 60 people attended, and there was active participation with enthusiastic discussions, creating a warm and lively atmosphere. Several alumni were also present to welcome the new students to the Tamkang University family. On the same evening, the alumni association held its 2nd meeting of the 13th Member Meeting at the Keelung Gang Seafood Restaurant. A total of 47 alumni attended the meeting, and it happened to be Hsiao-Hsian Chiu's birthday. Everyone celebrated by singing "Happy Birthday," and the alumni gathered together joyfully.
The Kaohsiung City Alumni Association held a meeting on August 20th at the City Council Auditorium. Parents of new student attended enthusiastically, with approximately 130 people participating. Among them, alumnus Chi-Chang Wu served as the chairman of the Parent Association at Kaohsiung St. Dominic Catholic High School and is a strong supporter of his alma mater. Last year, 14 students from that school entered Tamkang University, and this year the number doubled to 28. He hopes to see this number continue to increase in the coming years. Wei-Sheng Huang, the Chairman of the Kaohsiung City Alumni Association, expressed gratitude, saying, "Thanks to President Lawrence Lin, Vice President Chun-Hung Lin, and Chief Secretary of the Board Wen-Chih Huang for coming down to join us. We also appreciate the alumni association team for their assistance in venue setup and other matters, which contributed to the successful completion of the discussion meeting."
SDGs #SDG04 Quality Education #SDG11 Sustainable Cities and Communities #SDG17 Partnerships for the Goals
---